MEET APRIL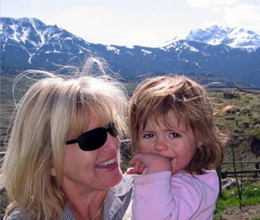 April Christofferson is an author and advocate for wildlife, wilderness and social justice. In her books and through her activism, April raises awareness on the issues around which she is working to make a difference—the American West's biggest areas of conflict, including wolves, bison, and trapping. She also writes about dangerous practices in the pharmaceutical industry, where she worked for years as an attorney.
She has published seven books. Her eighth, Trapped, will be released in October.
April grew up in Chicago, but the West is rooted in her genes. She attributes her love of animals, nature and the West to time spent as a child visiting Yellowstone National Park and her grandfather's Wyoming ranch. Floyd "Doc" Carroll, beloved Wyoming state veterinarian and cowboy, was inducted into the Cowboy Hall of Fame as one of this country's "Great Westerners."
The road April traveled to become a successful writer has been a winding one. After receiving her undergraduate degree in biology from the University of Utah, she studied veterinary medicine at the University of Illinois, then earned a law degree from Gonzaga University. April and her family lived in Seattle for 14 years where she worked as an attorney first in the entertainment industry, then in the biotech industry.
At age 40 she wrote her first book, After the Dance, which explored a family dealing with the death of a son from AIDS. After the Dance became a regional bestseller. After its release, April quit practicing law to write full time; however, just as she finished her second book, Edgewater (April had entitled it "Wild Turkey Moon" after seeing her first wild turkeys at their cabin in North Idaho), she was contacted about a "short-term" position helping a biotech company draft contracts. The short term gig turned into 5 years of working in the biotech world. April had also worked as a pharmaceutical rep to get through law school. The two experiences stirred April to write about practices in the pharmaceutical industry that she believed to be dangerous—and motivated more by the desire for profit than the desire to benefit mankind. The result was her next three novels—The Protocol, Clinical Trial and Patent to Kill—all medical thrillers favorably compared by reviewers to the work of Michael Crichton and Robin Cook. These novels have been selected for inclusion in the Kennedy Institute of Ethics/Georgetown University Library of Bioethics Literature, a collection that highlights ethical issues in medicine and biomedical research.
Edgewater, Clinical Trial, Patent to Kill and Trapped also revolve around important issues—and abuses—involving American Indians and other indigenous populations. For her next book, Buffalo Medicine, April turned the spotlight on a highly volatile Western controversy: the slaughter of bison that wander outside the boundaries of Yellowstone National Park. Buffalo Medicine revealed the political myth that has caused thousands of this country's last wild bison to march to their deaths.
April's next book, Alpha Female, is set in the very real world of trophy poaching. It celebrates the reintroduction of wolves to Yellowstone and addresses the threat of drilling to our national parks.
April's latest book, Trapped, is set in both Yellowstone and Glacier National Parks. It focuses on another hot button Western issue: the very-much-alive practice of trapping, and the danger presented by the guns-in-park legislation that went into effect in February of 2010. April also uses Trapped to highlight an animal whose continued existence is in serious jeopardy--one that, for April, truly represents wilderness: the wolverine.
Her extensive and ever-growing family of dogs, cats, horses, a 3-legged goat, ducks and geese attests to her inability to turn away an animal in need.
April taught business law at North Idaho College (happily, she does not remember Sarah Palin) and screenwriting at the University of Montana's College of Technology. She works part-time as a writer and attorney for the University of Montana's College of Health Professions and Biomedical Sciences. She currently alternates between her home in the Bitterroot Valley and small cabins in Livingston and East Glacier, Montana. She feels incredibly blessed to do so.
April fondest dream is to foster a greater appreciation not only for Yellowstone and Glacier, but for all of this country's remaining wild places—and their four-legged, winged and finned inhabitants. Her next novel, Grizzly Justice, focuses on the great Spirit Bear (the grizzly) and the danger that lead poisoning represents to wildlife, in particular, raptors.