BOOKS: OTHER
Buffalo Medicine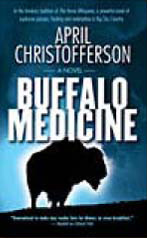 BUY ONLINE
Tension is high in Big Sky Country: the last wild bison in the world are being slaughtered when they wander outside Yellowstone National Park and onto land where cattle graze.
When veterinarian Jed McCane gets caught in the battle between cattlemen and environmentalists, he's faced with a choice that could devastate his life. It's up to a young buffalo activist—and the majestic, shaggy beasts she risks her life to defend—to lead Jed to discover what he must do. But will the cost to Jed be too high?
"An outstanding, thought provoking novel. The best books are those that are educational and entertaining at the same time. I read Buffalo Medicine at the same time government officials were contemplating allowing the massacre of 300 Yellowstone buffalo. While April Christofferson is a fiction writer, she uses real facts and real locations in this book. Sometimes Buffalo Medicine was so realistic I found myself reading late into the night just to get a better understanding of the true Yellowstone drama and its likely outcome. If you're an environmentalist or a wildlife advocate, Buffalo Medicine will be your next favorite novel. And even if you don't have strong feelings about nature or animals, you'll still love this book. It's well written, unpredictable, and highly addictive." –Marty Essen, award winning author of Cool Creatures, Hot Planets

Clinical Trial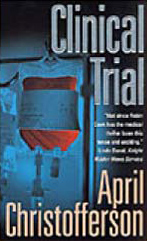 BUY ONLINE
When the deadly hantavirus kills dozens of American Indians, Dr. Isabel McLain is asked to conduct a clinical trial of a vaccine on the Blackfeet Reservation. Isabel has fought long and hard to gain the trust of her wary patients. When corporate greed makes for questionable science, she must determine whom she can trust with her life, her career—and most importantly, the lives of the Blackfeet.
"A deftly woven thriller...substantial and intriguing." –Library Journal
"Guaranteed to make any reader late for dinner, or even breakfast." –Booklist
"Christofferson's smooth plotting and prose show the dexterity of a novelist coming into her own. She's especially good with her large case of Blackfoot characters." –Publishers Weekly
"Not since Robin Cook has the medical thriller been this tense and exciting." –Knight Rider News Service

The Protocol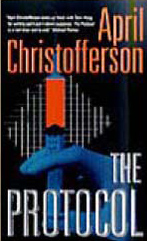 BUY ONLINE
Jennifer Rockhill's quest for the truth about her husband's death falls into place when she's hired as the corporate attorney for a Seattle biotech firm being secretly funded by the illegal harvest and sale of human organs. But Jennifer soon discovers that organ theft is not the worst of the firm's transgressions. Entangled by inconceivable medical perversions, Jennifer must fight for her life in order to reveal the truth about the science being conducted at the firm.
"Michael Crichton–like...this debut thriller is expertly paced and tautly woven...suspenseful success." –Publishers Weekly
"The protocol is an exciting romantic medical thriller...Christofferson demonstrates much talent that allows the audience to fully grasp modern science within an arousing but chilling thriller." –Midwest Book Review
"Can't put down suspense...the best novel of revenge and retribution I've read in a very long time." –Michael Palmer, NY times bestselling author
Patent to Kill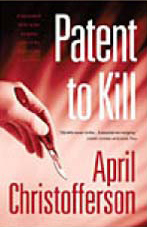 BUY ONLINE
Biopiracy: the theft of the healing secretes of isolated native peoples. Greedy drug companies swoop down on remote tribes, steal their folk medicine and native cures, then reap tremendous profits from the patents. Dr. Jake Skully discovers that some drug companies have even begun to steal human blood for its unique DNA. But if Jake blows the whistle on the criminal activities, he risks putting his own life—and his family—in danger.
"A fascinating medical thriller on a par with the works of Robin Cook." –Midwest Book Review