BOOKS: TRAPPED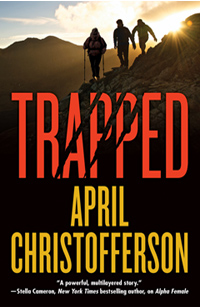 BUY ONLINE
Yellowstone backcountry ranger Will McCarroll is every poacher and trapper's worst nightmare. His tireless defense of endangered wildlife has made him a national hero, but when Will's anger over legislation allowing loaded guns in national parks causes him to break the rules one time too many, he finds himself transferred from his beloved Yellowstone to Montana's Glacier National Park. In this edgy eco- and political-thriller, Will soon finds in Glacier a wilderness worth defending–and under siege from illegal trappers, a right-wing radio talk show hosting a predator derby, and members of a radical offshoot of the American Rifle Foundation.
"A ripping plot as dramatic and complex as the peaks it unfolds in and characters who care profoundly about the way they live their lives (even the bad guys hold deep beliefs) enliven this examination of the way people love what they love—and what they're willing to do to protect it. Trapped is as beguiling an imagination of lives in the North Rockies as you're going to find in book form."
- Jeff Hull, author of Pale Morning Done
When Yellowstone Magistrate Judge Annie Peacock realizes Will has been lured into Glacier's backcountry as part of an ARF plot to silence him, she enlists the help of Johnny Yellow Kidney, Glacier National Park wolverine biologist. Aided by locals from the Blackfeet reservation, Annie and Johnny's quest to warn Will ends up a race for time--one whose outcome will impact not only Will, but the lives of the two- and the four-leggeds he's sworn to protect as well. Note from April:
I am very excited about this book, and the opportunity not only to introduce many of you to Montana's wild and wonderful "Crown of the Continent," but also to an animal that, for me, truly epitomizes wilderness—the wolverine.
Trapped is scheduled for release in late October.
For a peek at April's 2007 Yellowstone Discovery article about the wolverine click here.